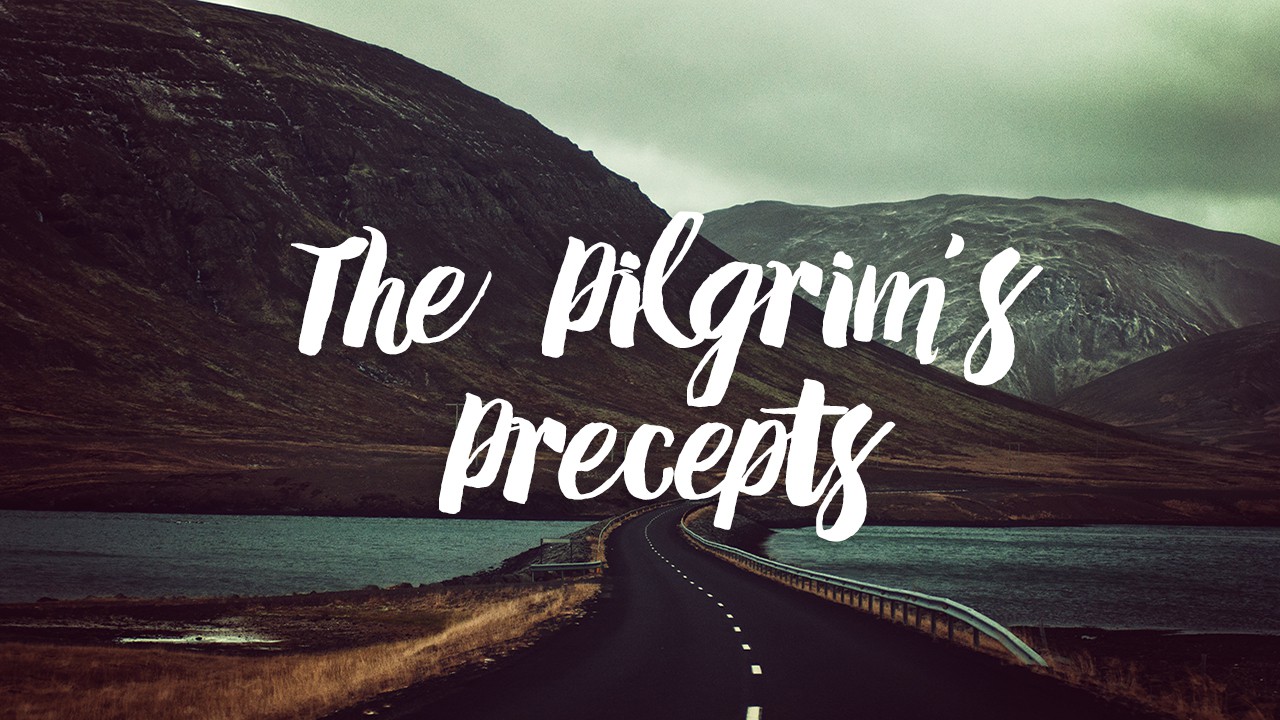 It's common in ministry schools to have an experienced Pastor come in and lecture on the ministry. In the closing chapter of First Peter we get to sit under the Apostle Peter's teaching as he instructs us in ministry.
As we sit in Peter's lecture we will learn about our ministries as pilgrims.
Peter begins his lecture in verses 1-4 four by addressing those called into leadership.
1 The elders who are among you I exhort, I who am a fellow elder and a witness of the sufferings of Christ, and also a partaker of the glory that will be revealed:
Elders are also known as the Pastors and assistant Pastors. There would be a lot of elders addressed in this passage because chapter one says that these believers were scattered through various areas of Asia Minor.
Pastor's are given a number of names or titles in scripture. They are called Elders as we learn in this passage (1 Pet.5:1), this does not describe their age because Timothy was an elder and he was a younger man. Elder refers to the fact that these men are in a position of leadership. There is the title of Bishop (1 Tim.3:1) which means overseer. There is the title of Pastor-teachers (Ephesians 4:11) this describes the main function and responsibility of the elder or bishop, they are to shepherd God's sheep, by feeding, protecting and leading.
Notice even though Peter was exhorting these Pastors as an Apostle of Jesus Christ, he was humble he recognized that he was called to the same work as them. This is an encouragement!
While God might call some men to bigger ministries, nevertheless at the end of the day we are all doing the same work. We are all serving the same crucified Christ who suffered for us and we are all going to receive our inheritance which is reserved for us in heaven.
2 Shepherd the flock of God which is among you, serving as overseers, not by compulsion but willingly, not for dishonest gain but eagerly;
3 nor as being lords over those entrusted to you, but being examples to the flock;
Here's some practical exhortations that these ministries leaders were to heed to have a dynamic Jesus style ministry.
First they were to remember they were given a stewardship; they were to shepherd the flock of God serving as an overseer.
Peter reminds the Pastor that the church and the people are God's people, He bought us with the precious blood of His own Son the Lamb of God. The Pastor has the responsibility of serving as an appointed shepherd or steward serving under the chief shepherd Jesus.
Second they were to shepherd the flock of God: this can sum up responsibilities of the a Pastor. What does this entail? A lot more than you can put on paper. Basically you can say that a shepherds job is to do whatever needs to be done to care for the sheep. It is like saying what are the responsibilities of being a parent? This is why the ministry of Pastor teacher is a supernatural calling.
While the list can be endless depending on the need, there are essentials to the work of a shepherd such as feeding the sheep the word of God, protecting the sheep from predators whether it be people who want to stumble the sheep or present some false teaching. They are to lead the sheep in the direction that the Chief Shepherd commands, caring for the sheep that are hurting and correct wayward sheep, so they don't go off and get hurt.
After describing responsibilities Peter goes to ensure that these Pastors serve in the correct manner and with the right mindset.
The main point of these verse was to encourage those in the ministry. That is those persecuted Pastors who have already been in the trenches serving in the ministry.
Peter's first encouragement is don't serve by compulsion, but willingly. Serving by compulsion means because you have to. Yes, all Pastor's have responsibilities as all employees have the responsibility to go to work.
Sometime we are just not excited to go to work. In these time we need a reminder that we serve not because we have to but we get to.
Second ministry is not to be done with a hidden agenda which in reality is being dishonest to the Lord. It looks genuine outwardly, but if ministry is only done for money, fame, power its done for the wrong reason. Ministry must be done eagerly for Jesus.
Third Peter says nor as being Lord's over the flock but as examples. Peter sat under Jesus' teaching and learned this first hand. Jesus told them that the Gentiles Lord over the people, but not so among them. The greatest must be a servant. Jesus demonstrated this daily. Jesus did not sent commandments from an exalted palace, but He taught truth and lived it out in front of people.
How are to we to keep this Bible mindset and manner of ministry? Look at verse 4.
4 and when the Chief Shepherd appears, you will receive the crown of glory that does not fade away.
These Pastors were to stay the course by looking unto Jesus' coming to resurrect the dead and rapture the church. After the rapture the Pastor will get to stand at the reward seat of Christ and receive the crown of glory that does not fade away.
The world teaches that we are to strive after high positions of power, fame and money, but in the end this will fade away and be forgotten. The humble job of even the unknown Pastor off serving the sheep will end by being crowned with a crown of glory by the creator of the universe.
Now Peter in verses 5-14 addresses the ministry of believer's in general.
5 Likewise you younger people, submit yourselves to your elders. Yes, all of you be submissive to one another, and be clothed with humility, for "GOD RESISTS THE PROUD, BUT GIVES GRACE TO THE HUMBLE."
Peter begins by talking about ministry in light of relationships. The first relationship addressed in this verse are the believer's relationship to the leadership. Peter Specifically addresses those who are younger. Those who are younger can refer to those who are both young in age and in the Lord.
Peter teaches these believers that while Elders or Pastors are equal to all believers in their salvation and walk, nevertheless they have been given a God ordained authority to lead. This authority must be respected and obeyed.
I believe Peter addresses those who are younger because those who are mature in their faith should already be following this command and setting the example to those who are younger.
Next Peter deals with our relationship and ministries one to another. All believers are to be submissive to one another and clothed with humility.
To be submissive to means to render to each person proper respect and love. To be clothed with humility means to serve one another as a servant was called to serve those in his or her household. This word I'm told that the word be clothed refers to the apron that identified a person as a servant. Jesus was clothed in humility and demonstrated it y washing His disciples feet and laying down His life for our sins.
Besides being commanded to walk in humility, Peter says that the Bible says we are blessed for doing so. Peter quotes Proverbs 3:34 which clearly shows that God resists the proud but He gives grace to the humble.
6 Therefore humble yourselves under the mighty hand of God, that He may exalt you in due time,
7 casting all your care upon Him, for He cares for you.
Therefore or as a result of the fact that we are commanded to walk in humility and God blesses and exalts the humble, we are to humble ourselves before God.
To humble ourselves before God means to recognize who God is and to remember who we are. Humility implies not only attitude but behavior, If I am submitted God I will obey God's word and follow the examples that we are given in the word, despite our lot in life.
Walking in humility also includes casting your cares on God. Often we try to care for ourselves and live independently. Humility, or as Jesus called it being poor in spirit means I am bankrupt of any good or power.
God wants us to live dependent on Him, to cast all our struggles, our burdens, all our cares on Him. We don't have to worry about being a burden in doing so because God cares for us. He wants them and we need to give them up.
8 Be sober, be vigilant; because your adversary the devil walks about like a roaring lion, seeking whom he may devour.
9 Resist him, steadfast in the faith, knowing that the same sufferings are experienced by your brotherhood in the world.
While believers are to cast all our cares on God, this does not mean we just let go and check out. We can't because we are in a war zone and with an adversary who is continually looking for a way to attack. Satan is like a hungry lion always looking for lunch.
Because of this we must be sober. To be sober refers to having a proper mindset. Vigilant refers to our behavior in light of recognizing the fact that we have an enemy and in a spiritual battle.
Some of the ways we can remain vigilant is by resisting temptation, standing firm in our faith; that is we are believe and how we are to behave in line with God's word and we are to keep a proper mindset on suffering that all who live godly will suffer persecution. Beware of discouragement that it is only you that are suffering, this is a lie.
10 But may the God of all grace, who called us to His eternal glory by Christ Jesus, after you have suffered a while, perfect, establish, strengthen, and settle you.
Rather than be discouraged by suffering we are to keep in mind that our God of all comfort and the one who can empower is in His grace to press forward even in suffering will perfect us, establish us, strengthen us and settle us.
Each one of these these terms can have a sermon in and of themselves. Trials perfect or mature us, they establish us means or make us more stable in your faith and in your beliefs, they strengthen us which means they make us stronger and they settle us, I'm told that this word is related to the word foundation in Greek. Trials cause us to keep close to Christ which is our foundation for life.
11 To Him be the glory and the dominion forever and ever. Amen.
All glory and dominion belongs to God forever and ever. All glory and dominion will be established by God when Jesus comes back and sets up His Kingdom on this earth. Amen means so be it.
12 By Silvanus, our faithful brother as I consider him, I have written to you briefly, exhorting and testifying that this is the true grace of God in which you stand.
Silvanus is another name for Silas. Silas served as the writer of this epistle as Peter dictated the words to him. Silas gives us an example on ministering by being faithful.
Peter gives us the purpose of his letter, it was to write a brief letter to encourage them and demonstrate the grace of God which can give us power to stand as a believer in any trial or tribulation.
13 She who is in Babylon, elect together with you, greets you; and so does Mark my son.
14 Greet one another with a kiss of love. Peace to you all who are in Christ Jesus. Amen.
The church in Rome which Peter wrote from greeted these believers as well as Jon Mark who was there with Peter. These believers were to continue to walk in love and hospitality to each other.
In closing, you and I are pilgrims traveling through this world on our way to heaven. Along our roads we will experience trials and tribulations. We can be encouraged because God has given us grace to walk as saints and servants for the glory of God.